What are the top 5 best-selling massagers on Amazon in 2023? Let this article tell you the answer. Sales, ratings and reviews are the main basis for our judgment.
Table of Contents
Zyllion Shiatsu Back and Neck Massager
I call it "the most cost-effective genius design" because of its simple fixing strap that can fix it on chairs and car seats. And, it's not just a back massager, it can also be used as a pillow.
Pros
Versatile and ergonomic. Compact pillow massager can be carried anywhere. Contours comfortably around your body: upper and lower back, neck, arms, feet, abdomen, hands, calves, thighs and leg area. Adjustable velcro straps on the back of the massager helps secure it to your favorite office chair to target any painful knots.
Overheat protection and soothing heat function
Cons
Wired connection. The shiatsu neck massager is not cordless or rechargeable. The ul-approved 2.5a output power adapter works with both 110-120v & 220-240v electrical outlets. Includes a car adapter. If it can be changed to rechargeable lithium battery or USB Type-C charging method, and ensure sufficient battery capacity, it will be more perfect.
Small for someone
Resteck Shiatsu Kneading Massager
A solid choice among wraparound neck massagers, resteck is one of the top-rated options on amazon. Good for whole-body use, this massager is a small investment for your overall wellbeing. The best part of the resteck massager is its flexibility for use on all parts of your body, from your neck to your feet. Hand loops allow for added downward pressure or a resting place for your hands, and four-button controls allow you to adjust the pressure to your liking without issue. A wall and car adapter are included with purchase, as well as a convenient carry bag, making this massager a great gift for those on the goor a good addition to your travel carry-onand users love using it on long car rides.
As with some other neck massagers on the market, the resteck massager has a 20-minute auto shutoff for convenience and protection against overuse. While we love this as a portable neck-massager option, buyers should keep in mind that its corded and some have complaints about the length of the power cord.
Pros
Easy to store, carrying bag for transport
Flexible
Cons
Wired connection. The shiatsu neck massager is not cordless or rechargeable
Short cord
Hand straps may be short
InvoSpa Shiatsu Back, Shoulder, and Neck Massager
Equipped with eight massage roller balls and three separate speed-strength levels, the InvoSpa massager is a great pick for neck and back massages. Two hand loops allow the user to push toward the ground for additional pressure, and infrared heat loosens tight muscles as it massages. An included carrying bag make this a great on-the-go massager.
Reviews do mention that the controls are placed in an awkward position on the device, and that the stiffness doesn't allow for a ton of versatility, but for neck and back pain we like this option.
Pros
Easy to store, carrying bag for transport
Three intensity levels
Cons
Comfier Shiatsu Neck and Back Massager
The comfier neck and back massager is a full-body experience, and when paired with one of our favorite foot spas, youll be sure to feel your best after a pampering session. While this is a pricier option than some others on the market, we like the comfier massager because of its ability to work the whole body as well as specific parts without much work on your end. Simply set your device for either 2d or 3d shiatsu massage, and the four rotation nodes will begin working their magic forward and backward. Other setting options include three intensity levels, heat and vibration, spot massage, adjustable compression massage on waist and hips, and the ability to make adjustments to where the nodes sit based on your specific height.
Due to the nature of this massagers design, it is rather large, and thus wouldnt be a good choice if youre limited on space or looking to travel with your neck massager.
Pros
Nodes can be adjusted for height
Full-body massaging
Cons
Relatively overpriced
Inconvenient to carry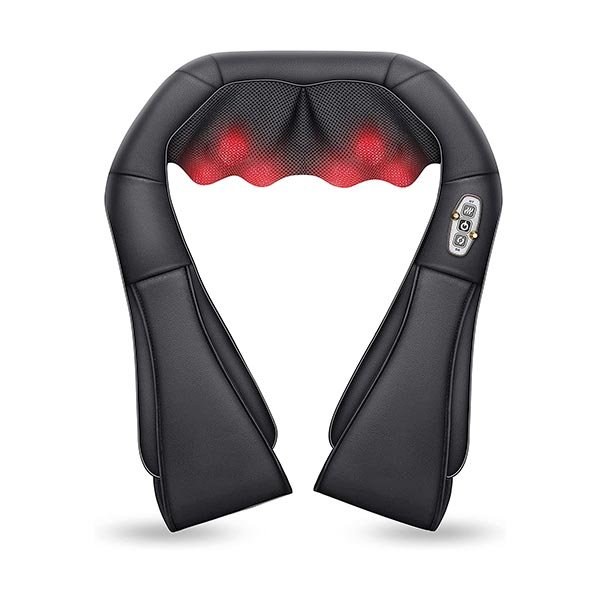 Comfier Shiatsu Neck and Shoulder Massager
A smaller cousin to the comfier shiatsu neck and back massager, comfiers neck and shoulder massager is basic in its functions but can be used on smaller areas at a time, proving its versatility in a more compact package. While the neck and shoulder massager doesnt quite have all the bells and whistles of the larger, chair-like version, users who have purchased this model like it for its simple control panel, which controls heat therapy, and the straightforward 3d massage using its eight rotating nodes.
Automatic shutoff after 15 minutes is built in to avoid overuse of this massager. While theres only one speed setting, this massager is still said to hold a lot of power, and some users report pain after the first couple times that theyve used it. Those on the go should know that this purchase only includes a home adapter; a storage bag or car adapter would have to be purchased separately.
Pros
Cons
May hurt the first couple times
Only one speed setting
*Remarks: Olahealth offers high-end massager OEM&ODM customization services. Olahealth works with big brands, such as Philips, Westinghouse, and Breo.
Copyright statement: This is a content sharing equivalent to reprinting. Most of the content of the article comes from the following link, thanks to USATODAY.
https://reviewed.usatoday.com/lifestyle/best-right-now/best-neck-massagers