L20 Heat and Cooling Eye Massager
L20 Heat and Cooling Eye Massager, Bluetooth music and rechargeable battery, 4 massage modes. High-end Heat and Cooling Eye Massager OEM ODM. Olahealth works with big brands, such as Philips, Westinghouse, and Breo.

Product Highlights
Cooling Compress
42°C Heat Compress
Built-in Music And Bluetooth Customizable Music
Premium Fabric
Adjustable Elastic Strap
180° Foldable
Built-in Rechargeable Lithium Battery, USB type-C charging
*Remarks: The appearance, color and function of the whole machine can be customized. Olahealth offers high-end massager OEM&ODM customization services. Olahealth works with big brands, such as Philips, Westinghouse, and Breo.
Parameters
Product Name: Hot and Cold Air Pressure Eye Massager
Rated voltage: 3.7V
Rated power: 3.5W
Charging current: 900mA
Ice compress somatosensory temperature: 19.5℃+/-1℃
Hot compress temperature: 38℃+/-1℃
Battery capacity: 2500mAh
Charging time: 3.5-4 hours
Product size: 210*115*80mm
Product weight: about 445g
Packing size: 187*187*87mm
Packing quantity: 20PCS/box
Rechargeable & Type-c Port
3S Fast Alternative Cold and Heat Compress
Japanese semiconductor peltier temperature control technology can quickly cool and heat through directional conduction of heat. At the same time, the built-in Ai temperature control system ensures that the temperature is suitable and will not be too cold or overheated, which will damage the eyes and skin.
Laboratory environment evaluation: It can be cooled to 20°C in about 3 seconds, and can be heated to 40°C in 5 seconds.
Cold and Hot Smart Cycle Experience
Smart Heating Function – A constant heat compress (104℉±1.8℉) better for reducing the irritation and headaches that caused by eye strains, and help to stimulate circulation around eyes to reduce dark circles, relieve dry eyes.
Smart Cooling Function – A constant cold compress (67℉±1.8℉) can be a safe and effective way and better for relieving puffiness, pinkeye, eye pain, eye bags and eye strains due to overexposure to screens.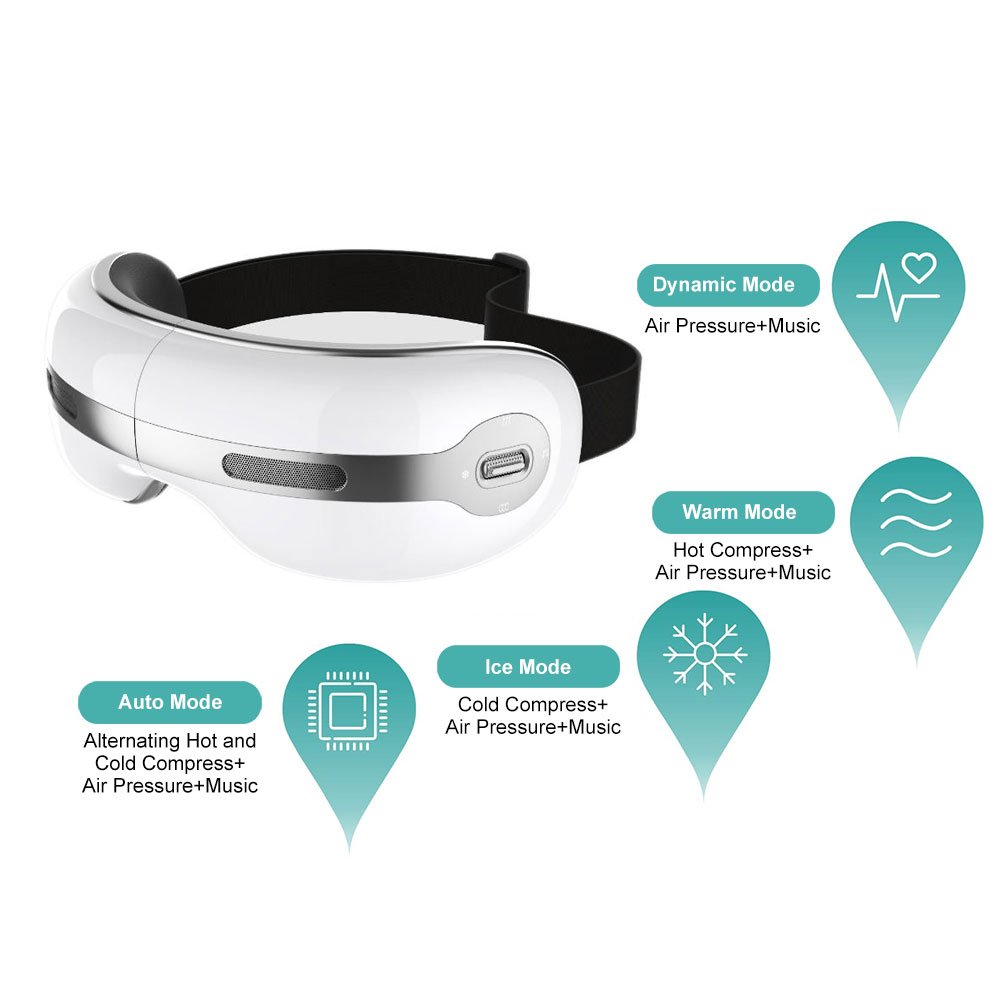 Each massage mode can choose the intensity of air compression and music on or off. 4 modes of the eye massager for dry eyes, headaches, dark circles.
8 Large Acupuncture Points Airbag Kneading and Pressing. Close Your Eyes for 10 Minutes, Open the Exclusive Eye Spa.
Eye Mask Protect Your Eyeballs
Rechargeable, Long Battery Life
2500mAh large-capacity battery supporting to use 6-10 sessions of 10 minutes each.
Equipped with USB-C charging port
Bluetooth Customizable Music
The Bluetooth feature allows uers to connect their smartphone, tablet, or any other Bluetooth-enabled device to the eye massager. Once connected, they can stream their favorite music or audiobook directly to the massager's built-in speakers.
The weight of device is 441.5g. It can 180° fold into small size, which undoubtedly increases the portability of this massager.
Can I print my logo on the products?
Yes, we support OEM/ODM orders.
Can I take samples before bulk order?
Yes, free samples are available, and the sample fee will be refunded after the bulk order contract is signed.
What's the delivery time?
1-7 days, depends on order quantity.
What's the payment way?
For bulk order, T/T is better. Paypal for small orders.
What's your MOQ?
Above 1000pcs.
You are Factory or Trading Company?
We are a factory with more than 2000 square meters workshop.
Interested in "L20 Heat and Cooling Eye Massager" ?
Leave a message via the contact form below, we'll reply to you within 24 hours!